Review of NIKE Studio Straps February 2013 – £95
The innovative Nike Studio Wrap Pack was designed to help you make the most of workouts typically done in bare feet, including Nike Training Club Toned, yoga, dance and barre. Made up of a wrap, a ribbon and a flat, this three-part footwear system combines a barefoot feel with protection, traction, support and style.
NIKE Studio straps
I would rate 10/10 for packaging of this product, each part of the Studio Pack has its own compartment which is great for storage when you are not using them &  the sliding box means it's great for stacking storage, as you can just slide open rather than having boxes fall on your head when trying to retrieve them (believe me this has happened to me on numerous occasions when rushing to try and get shoes from top of my wardrobe 😉 )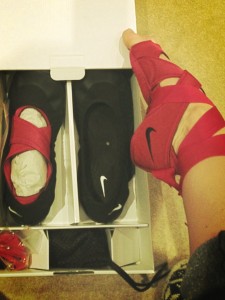 The Studio Pack has Straps, Ribbons, Pumps & handy draw string carry bag for storage.
STRAPS Aesthetically the straps look amazing, in their vibrant pink colour, crossing over your feet beautifully and making even the ugliest of feet look elegant.  I have worn the straps for both Pilates & Yoga based classes.  They are comfortable on your feet; there are no irritating seams or blood circulation cutting off straps.  They offer great grip when doing matt based exercises & the exposed toes give you great stability when doing exercises such as 'The Plank' , however when taking part in more dynamic movements in the standing position I found my feet did slip about in them a bit, which was irritating but not unbearable.
RIBBONS Again I love the look of the ribbons, coming from a Ballet background they remind me of my old Ballet shoes.  The ribbons are designed to give you greater arch support, however as there aren't any specific loops to hook them through they did tend to shift on my foot slightly which I couldn't feel but ruined the look & made them feel a bit pointless.
PUMPS These are such a fantastic idea as they slip straight over the straps, allowing you to walk straight from street to studio & vice versa.  They are strong & sturdy with good grip & comfortable to wear.  The only drawback for me is they lose the cool edge by looking remarkably similar to Primary School PE pumps – not so elegant.
CARRY BAG Really good breathable carry bag, however struggle to fit outdoor pumps in as well, could do with being slight bigger.  But still a good idea & keeps it all together nicely.
The price point is quite high & feel they could do with a few little tweaks to make them greater value for money.
Over all I would give this product: 7/10