So this year as well as teaching around 28 – 30 classes in term time, I have decided to join a couple of different fitness sessions myself.
So below I have given an overview on each session I attend & how I feel I am benefiting from them.
Capoeira
The first question most people ask is…What is it?
Capoeira is a Brazilian martial art combining elements of fight, acrobatics, self-defense and music. Capoeira originated in Brazil in 16th century, the slaves disguised the martial art training in the form of a dance and ritual thus freely practicing vital skills for escape and survival right in front of their masters. Since then Capoeira has become not only a very popular sport in Brazil but also internationally with many Capoeira schools having affiliations in many countries.
On arrival to my first class I was excited & also relieved to discover my instructor Prof. Cobra is a native Brazilian, which for me makes for a more authentic experience.  I had a good understanding of Capoeira having visited Rio 3 years ago, but I didn't know as to the level we would start at and how quickly we would progress.
The session lasted for 90 minutes and included aerobic fitness, core conditioning, flexibility & gymnastics.   We were running, jumping, crawling, 3 ways splits, handstands, cartwheels and much more!
Prof. Cobra taught us traditional Capoeira moves such as the Ginga, which is one of the core moves within Capoeira.  From there we added on blocks & kicks (for which I am yet to remember the names of!), then cartwheels & handstands.  In between learning these new moves we were put through our paces in terms of fitness by running, sit ups, planks, jumps etc
At the end of the session once we were fully warmed we worked on flexibility mainly of the back, I can honestly say I haven't felt so stretched & flexible in a very very long time!
After my first session I came away on a high!  I couldn't believe how much we learnt in one session & how Prof. Cobra encouraged us to push our physical fitness limits.   I felt like I had a complete body workout including some serious work on the abs & core and finished by stretching to beyond my normal range of flexibility.
All I can say from here is I loved it!  & have now made it part of my weekly routine to attend my Friday night Capoeira class!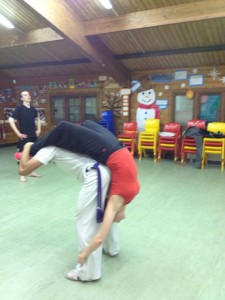 Bootcamp
Well what can I say, bootcamp is just what I expected & want from a bootcamp, it's fun, hard work, muddy, sometimes wet, challenging & motivating.
James & Ian from Bootcamp 300 UK challenge just about every muscle in your body, in a military style set up.  There are cargo nets, ropes, tyres, sandbags, kettlebells, mud & hills.  You run, jump, lift, drag, crawl, pull, push, flip, whip, weave and more.
Each station is designed to challenge your body in different ways, pushing you to your physical limit and then rounded off at the end with a full circuit time trial, where my competitve streak never fails to rear its head 😉
The bootcamp runs in all weather conditions, which to be honest really does add to the fun.
These sessions are so much more fun than normal circuit style sessions and the boys never fail to make it fun with at least one new challenge each week.  The trainers won't let you give up but are supportive & make you feel like 'Yes I can do this'   They really do live up to the Bootcamp 300 Uk slogan 'We are ready…are you?'   My answer is yes I am ready!
Bootcamp 300 UK run every Saturday 9am & Sunday 10am at Lesley Sears Playing Fields in Wokingham.  They offer many different payment packages to suit and can be found at www.facebook.com/bootcamp300uk